Fake Shark - Real Zombie! Releases US Debut Liar EP
March 18, 2014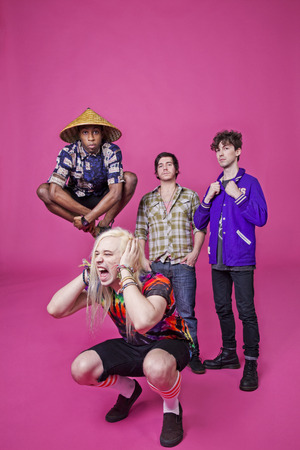 Url: http://www.FakeSharkRealZombie.com
Sound: http://s3.amazonaws.com/lafamos-dpk/system/mp3s/6473/original/pai[...]
The Pop-Rap Foursome Releases Video for Latest Single, "Paint It Gold"

Los Angeles, CA- Pop-freak band Fake Shark - Real Zombie!'s new 5 song Liar EP, now available on iTunes, is an explosive collection of the band's rare divergent sound. Fake Shark - Real Zombie! has been eager to share their single and video for "Paint It Gold", and the rest of the EP with the US, in hopes to grow their "zombie baby" fan base. Liar is the band's first US release. This 5 song EP is an anomalous conglomeration of hip-hop, post-hardcore, and dance punk.

The band's single "Paint it Gold" graced Canada's CBC radio for eight weeks at #1. Directed by Ben Knechtel, the video is an enthralling kaleidoscopic in which they cover their bodies in gold paint. The single "Yes Yes No No," featured in the hit TV show Degrassi, will have you hooked by the first verse with its catchy upbeat lyrics. "F__k Kevvy" is cleverly structured as a phone call where lead singer Kevvy addresses the band's unique musical content. Kevvy, explains "I write records for myself, as if I were trying to come up with my favorite record, and the types of things that satisfy me musically are more like witty phrasing or lyrics rather than just trying to write the fastest songs in the world."

Since meeting in high school in Vancouver, Canada Kevvy Mental and Louis Hearn both shared the vehement desire to create an original sound that was a combination of styles from the bands they respected. After being unable to find the right female vocalist. Kevvy picked up lead singer duties and Louis became the guitarist. Jason Crockford joined as the drummer and Tony Dallas as the bassist.

The band, whose name is influenced by Lucio Fulci's film, Zombie 2, has caught the attention of Grammy Award-winning artist Henry Rollins (Black Flag, Rollins Band). Rollins, who is a fan of their music, has showcased the band on his radio show numerous times and collaborated with the band.

From tours in North America, Japan and the UK, Fake Shark - Real Zombie's fans are growing steadily. The band has toured alongside many talented artists, such as Mindless Self Indulgence, Klaxons, Hot Hot Heat, Brokencyde, The Birthday Massacre, Marianas Trench, Jeffree Star, Enter Shikari and more.

Watch the video for "Paint It Gold" on the band's YouTube channel (over 350,000 views!) and pick up Liar EP on iTunes!

Be sure to keep up with the band at www.FakeSharkRealZombie.com.