NYC OSCAR SANCHEZ SIGNS SAN ANTONIO RAPPER CINCO TO AFFLUENT RECORDS
January 28, 2014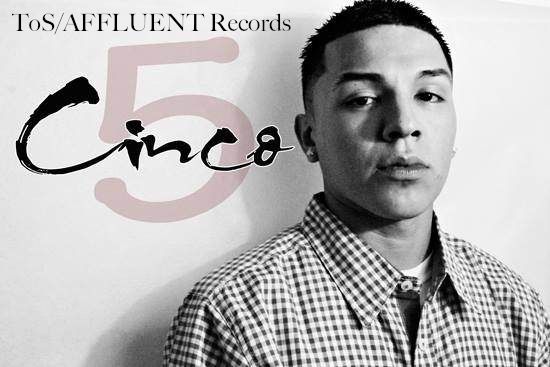 Email: oscarsanchez@affluentrecords.com
Url: http://www.affluentrecords.com
OSCAR SANCHEZ signs San Antonio rapper CINCO to AFFLUENT

Carl Bard once said, "Although no one can go back and make a brand new start, anyone can start from now and make a brand new ending." These words are a represented everyday as a clear example in the world of music. No one can bring back the past, all we can do is appreciate our memories, live in the moment and look forward towards the future."

Each and everyday thousands of new artists put their all on the line to become the next "ones" of the future. As many dreams circulate within the industry, few actually get to reach that point of recognition and success. Yet for some they come into the game under a different premise and although it is not an easy road some ride thru on a different lane where it goes beyond a dream, but instead we get to witness a destiny unfold before us.

Roger Silva p/k/a CINCO (5) is one of those gifted artist we are speaking about today whose destiny seems to be already written for success. At 22 years old he has become one of the freshest new rap talents out of the streets of the San Antonio Texas region to surge to the top. His musical career began at 15 during his hometown high school days at Robert E Lee where his influences of Nas, Tupac, and Biggie opened up his passion. He felt the music his mentors made and felt it in his soul in a way that enabled him to know this was more than just a dream. He came to terms with himself to believe in himself to push forward and make it, till this day he has never looked back.

"Every chance I get to do that I take it, open my eyes to reality my lifestyle and just be myself", says Cinco. His passions quickly lead him to eventually connect with the other pieces to his hometown puzzle, when he met with Slick Beats & John Poppa of Take Ova South Records. Take Ova South Records is not only a bunch of artist rhyming together were a Family were not always rhyming we hang out like brothers, laugh take time to chill talk business and just be ourselves. For me there's not another place or squad I'd want to be with we are like "Slaughterhouse" but "Our Own Powerhouse" In San Antonio," says Cinco.

Together they began to put out hot street music from the studio to the net, the reaction went crazy. Slick Beats knew he had something major and reached out to NYC AFFLUENT RECORDS CEO Oscar Sanchez to see if he could hear the same thing. Oscar did and immediately signed Cinco and the TOS label imprint to be exclusively distributed and executive produced by Affluent. "It's a great deal working with Slick Beats and John Poppa, they fully understand the hustle of the game and I appreciate their work and dedication into making CINCO's project a huge success. By bringing CINCO on board as the first artist it opens the door for the TOS Label to bring in more artists out of the south region under AFFLUENT. Here we get to open a new outlet in a market where we can create new brands new artists and new careers. 2014 is going to be great year for new music and CINCO's name will be at the forefront of them all", says Affluent Records CEO Oscar Sanchez.

Check out for new music coming soon from CINCO & TOS on Affluent Records later year at all top digital outlets this year.