Christian Rapper Shantell "Charisma" Morrissette Brings "Miss Lady" Hip Hopera to University of West Georgia
October 2, 2012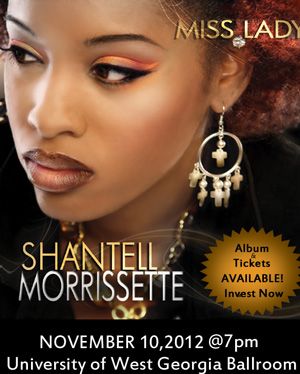 Url: http://www.doyounetwork.com/
Atlanta, GA – Atlanta-based Christian rapper Shantell "Charisma" Morrissette will present the inspirational stage play "Miss Lady" on Nov. 10 at the University of West Georgia with compelling, passionate performances and God-inspired hip hop. Located in Carollton, Georgia, just 40 miles west of Atlanta, UWG will be transformed into the setting for the heartrending hip hopera that speaks to the issues of domestic abuse, prostitution, teen pregnancy and child abandonment.

Written and directed by Regina D. Wells of Gena Mae Productions, "Miss Lady" introduces four passionate but broken young women who chart their individual paths from pain and stress, to success and ultimately complete healing. The theatrical presentation was inspired by Morrissette's music CD "Miss Lady" but even more fascinating is the fact that Morrissette's own life experiences are etched into much of the play's script. "I have been in relationships that have backed me in corners I never thought I'd stand in," says Morrissette. "Compromising my own moral standards only caused me to love me less."

Songs from Morrissette's CD including "Bootleg", "Now I See", "I've Been" and, of course, "Miss Lady" will be performed. "Miss Lady" is the acronym for "Made in my Savior's Strength and Living Admirably and Daily Yielding to Christ."

With her life and music being the central focus of the "Miss Lady" stage production, Morrissette expresses, "I would like women to walk away knowing that they are more than whatever or whoever has made them feel less of a than who they are. They can take the stones that have been thrown at them and build their own testimony and show other women how to do the same."

For ticket information, visit www.doyounetwork.com. For media inquiries and interviews, contact Louise Moore at 404-919-3301 or LTLMediaPR@gmail.com.