Exclusive: AKA FRAZIER debuts his second promotional single, "Put In Work"!
August 31, 2012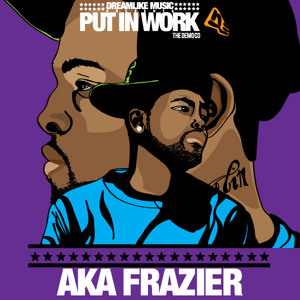 Email: info@dreamlikemusic.com
Url: http://www.dreamlikemusic.com/
You already know, AKA FRAZIER, a native of Shreveport, Louisiana, has been on his grind writing and spitting fire! With a tenacious work ethic, you can't keep him out the recording studio! He is quick to tell you, "I do it for Louisiana first"!

Dreamlike Music cosigns on the support of AKA FRAZIER and the people of Louisiana! The song, "Put In Work" is a motivational and energetic piece. The message behind it is that in encourages people to take control of their lives and to live the way they dream by paying your dues, putting in work, and simply be independent! Anyone would be able to apply this message in their everyday lives. You will have no problem riding to this track!

AKA FRAZIER will be dropping his promotional EP album soon! As soon as you hear his voice, you already know it's a southern soul, a Louisiana swag, and his street spirit speaking to you! Let's "Put In Work" people!!!